CYPRUS INCENTIVES
Attracting foreign direct investment is at the heart of the Government's policy, and one of its most important priorities. In this context, the Government continuously provides for the offering of favorable incentives for existing or new companies doing business in Cyprus, increasing Cyprus' competitiveness and creating a more effective and business-friendly environment, through a series of reforms towards the restructuring and modernization of the state and the public sector. The government is committed in creating optimal conditions for businesses to flourish, by simplifying administrative procedures, improving the tax framework, guaranteeing an open and transparent legal system and eliminating internal barriers, bureaucratic dysfunctions and distortions that halt or hamper growth.
In an effort to develop opportunities, boost economic activity and attract foreign direct investment (FDI), the Cyprus Government has introduced a series of measures and incentives that contribute in rendering Cyprus an ideal business gateway. In order to further enhance the foreign investment intensity, the Government has also liberalized the FDI policy, not only for EU citizens, but also for investors from third countries in most economic sectors.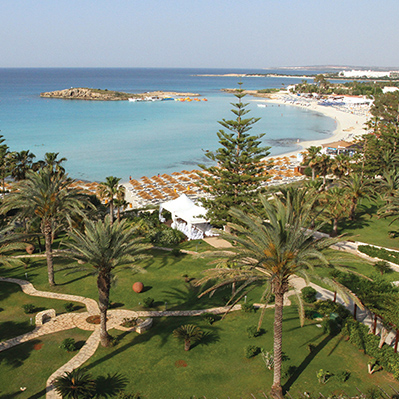 Cyprus constitutes an attractive investment destination, with a corporate tax rate of 12.5% and an extensive network of Double Tax Treaties (ANNEX I).
The country provides a simplified, effective and transparent tax regime that is fully compliant with the EU laws and regulations.
Its tax framework is completed by competitive corporate and individual tax and VAT rates, a generous participation exemption regime, a competitive new IP regime, a Competitive Tonnage Tax for Shipping and an approved EU open registry, as well as tailor-made provisions for the funds industry.
Dividend income, most international transactions, profits from overseas permanent establishments and profits from the sale of securities are exempt from tax.
Also, there is no withholding tax on dividend, interest and royalties paid from Cyprus.
On 16 July 2015 a number of amendments to the Cyprus corporate and personal tax laws were established: Corporate Tax Amendments: Introduction of Notional Interest Deduction ("NID") on 'New Capital' contributed and paid to Cypriot companies from 2015 onwards Foreign Exchange gains or losses will no longer affect the tax computation Introduction of anti-avoidance provisions for postponement of deemed dividend distribution arising from artificial structures Extension of the Accelerated Annual Capital Allowances for fixed asset expenditure to tax years 2015 and 2016.
Individual Tax Amendments: Exemption from taxation for personal investment income (dividends and interest) of nondomiciled individuals (non-doms) The personal tax exemption for high earners is now been granted for 10 years instead of 5 Abolishment of the Special Contribution for Defence on Income for non-domiciled individuals Taxation on Property: Exemption from future Capital Gains Tax for properties (land and land with buildings) purchased by the end of 2016 Reduction by 50% of property transfer fees payable at the Land Registry upon transfer of a title deed in the name of the purchaser General Tax Amendments: Expansion of the definition of 'Republic of Cyprus' in the Income Tax legislation to include all activities carried out within its Exclusive Economic Zone ("EEZ") Abolishment of local authorities' exemption from taxability of rental income
The Cyprus Government has also introduced a framework of investment and business incentives and grant schemes to enhance Cyprus' competitiveness and achieve economic growth, and complete the harmonization process of Cypriot legislation with the acquis communautaire.
Detailed information the following are provided in the Information Portal for Funding programmes at www.fundingprogrammesportal.gov.cy: EU Competitive Programmes Co-Financed Programmes EEA/Norwegian and Swiss Mechanisms National Grant Schemes The various grants and other financial assistance schemes are provided to investors particularly in the areas of energy, the environment, industrial development, technology, research and innovation, trade and services.
Please note that these schemes may be altered at frequent time periods.
Support schemes are frequently available through "De Minimis" state aid schemes in areas such as agricultural products, industrial products and services.
The following public, semi-public or non-governmental organizations frequently publish funding opportunities and schemes in their respective areas of expertise.
The Research Promotion Foundation (RPF) (www.research.org.cy): governmental grants to promote the development of scientific and technological research in Cyprus The Ministry of Energy, Commerce, Industry and Tourism (www.mcit.gov.cy): Governmental grants for existing, or new companies in the fields of agriculture, technology, the environment, trade and services, and business startups The Cyprus Tourism Organization (CTO) (www.visitcyprus.com): incentive schemes to attract investment for sustainable enrichment and upgrading of the Cyprus tourism product, and support schemes for International Sporting Events, Conferences etc.
The Human Resource Development Authority of Cyprus (HRDAC) www.
hrdauth.org.cy: grants to support a wide spectrum of employment, training, and expertise gain for companies The Office of the Life Long Learning Programme (IDEP) (llpcyprus.eu): manages the funds granted to Cyprus from the European Commission for the participation of beneficiaries in European Education and Training programmes